J is for Jane – Run to Jane, Run!
September 8, 2018
/
/
Comments Off

on J is for Jane – Run to Jane, Run!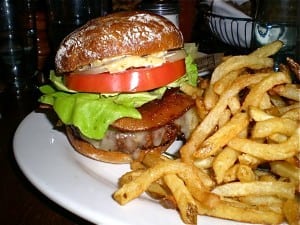 J is for Jane – Run to Jane, Run!
We Magpies are definitely creatures of habit. When we like a restaurant for its certain signature dishes, we always have to order them every time we go. Jane, located downtown at 100 West Houston Street (between Thompson Pl. and Laguardia), is one of those exceptions to the rule.
It is true that every time we dine there we always split the Toasted Ricotta Gnocchi as an appetizer (yes, the one featured on the premiere of the hit Food Network show, "Best Thing I Ever Ate" – because it is!). We love the creamy, nutty cheese sauce that they are swimming in (and the gnocchi just melt in your mouth). But we also have tried so many different main dishes on the menu that we can honestly say that they're all good. On a recent dinner there, one Magpie went for the Jane Burger – 100% ground sirloin, with white cheddar, double-smoked bacon, and topped with a "special sauce."  A little investigative eating by us Magpies, and we found out that a creamy mayonnaise-based jalapeno marmalade and tangy green pickled tomatoes is what makes the sauce so "special."
And special it is! A flavorful and juicy burger dripping with cheese, sandwiched between a thick brioche bun with side of crispy french fries and a pickle – delish. But there is no doubt that any main course you try at Jane will be good – we have had the veal milanese and the ahi tuna as well, among countless others. All are always impeccably presented and taste exceptionally good.  We've also dined there for Sunday brunch! It has the usual breakfast fare, with a few trademark Jane specialties. For example, there is not one, but three different kinds of Eggs Benedict: the Regular (poached eggs on top of Canadian bacon with Hollandaise)…
…and then the Benedict Jane (with crab and crawfish cakes, spinach, and a tarragon hollandaise) and the Benedict Johnny (with homemade maple chicken sausage patties, corn pancakes, and a roasted tomato hollandaise).  We tried the Johnny on a recent brunch trip. It was sweet and savory – very fresh and tasty.
Most importantly (to us Magpies), Jane also happens to have the most delicious Vanilla Bean French Toast in Manhattan! Dipped in crème brûlée batter and then cooked to order, the batter is creamy and sweet – incredibly melt-in-your-mouth delicious, just the way we like it!
So, when we were voting on that very special restaurant deserving of the J, it really was a no-brainer. Jane is the kind of restaurant that just makes everybody happy…and with a group of picky New York Magpies, that's something very special indeed.