Somethin' Good's Always Cookin! Kitchenette Gets The "K"!
September 8, 2018
/
/
Comments Off

on Somethin' Good's Always Cookin! Kitchenette Gets The "K"!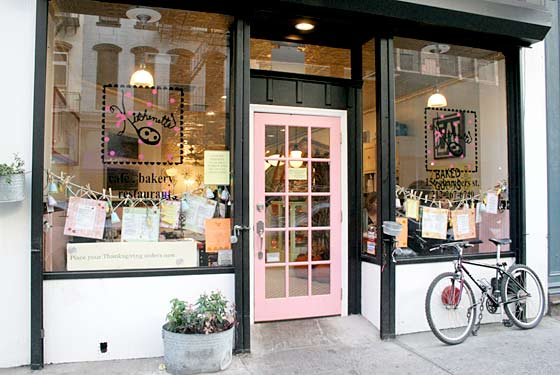 Somethin' Good's Always Cookin! Kitchenette Gets The "K"!
We at Harriet Magpie usually love those brunch combo dishes that have the he-man names. Unfortunately, they all have those he-man names…and you feel a little funny ordering them! And quite frankly, even though we're usually able to knock off one of those delicious sounding platters, it behooves us to say the name to order them! So, as soon as we saw the menu at Kitchenette on Chambers Street in Tribeca, we knew we were gonna love it – you gotta love a restaurant that has "Lumberjane" as the name of a breakfast dish – which made us very comfortable ordering it! Ahem….scrambled eggs, crispy bacon, and two slices of cinnamon-raisin french toast topped with powdered sugar!
Yes, not only did we order it, but we proudly polished it off! (move over Man vs. Food…here we come!). However, that was not the only thing that we ordered – that was just the start! We and our fellow Magpies then tried the famous Cherry Vanilla Baked French Toast…
…the Kitchenette Special (two eggs, bacon and cheese on a biscuit)…
And, so as not to leave the he-man who was with us out, we got one order of the "Lumberjack" – two eggs, turkey sausage and with a side of "Fruited (mixed berry) Pancakes"…
All in all, Kitchenette is a little hole-in-the-wall restaurant that packs a big punch. The food is great, the service is courteous and attentive, the atmosphere is homey with a very low-key neighborhood crowd. So if you're really hungry and feel like you can eat the kitchen sink, Kitchenette is the place for you. Everything is so good there that we're pretty sure that even the kitchen sink would be delish, and that's why it gets the"K" on our list of Alphabests.
(photograph: newyork.seriouseats.com via robyn lee)