DWNY – The Happiest Little Store To Spend Your Money! Better Yet…Enter Now To Win A Pair Of Faboosh DWNY Earrings!!
September 8, 2018
/
/
Comments Off

on DWNY – The Happiest Little Store To Spend Your Money! Better Yet…Enter Now To Win A Pair Of Faboosh DWNY Earrings!!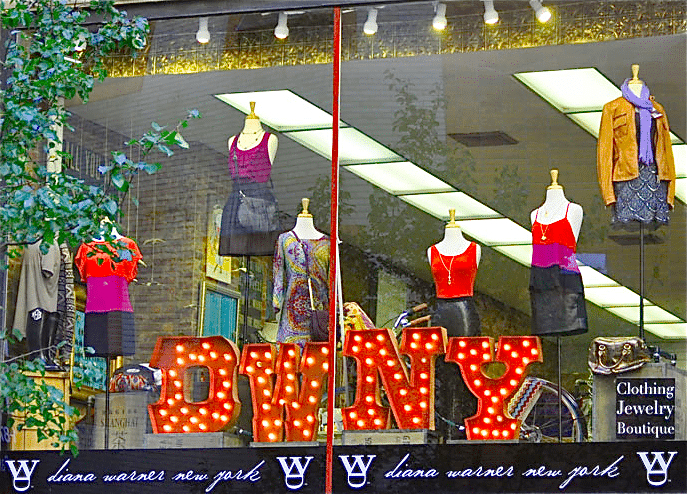 DWNY – The Happiest Little Store To Spend Your Money! Better Yet…Enter Now To Win A Pair Of Faboosh DWNY Earrings!!
As most of you readers know, we Magpies are always attracted to sparkly things. Lucky for us, DWNY, one of the sparkliest boutiques we've visited in New York (located on East 21st Street between Park and Broadway), has a twinkly neon sign that caught our eyes as we were heading home one afternoon.
Lucky for us, and now, lucky for our readers, we always have our eyes out for glitter! This charming boutique, owned and operated by Diana Warner, an extremely talented and super happy designer, and her talented and very happy cousin, Gibson, is filled with all sorts of their personally designed jewelry that is trendy, glamorous and affordable! How trendy? Well, her cool, drop dead jewelry can be seen on the set of all the TV shows you're loving right now ( her fab creations have accessorized basically the entire cast of Gossip Girl!)
…and she is the go-to designer for celebrities who want to ooze glamour (like…) and has been featured in top fashion mags. Though it's not that big in square footage, her store is packed with an enormous selection of earrings, necklaces, and bracelets to check out and a great selection of unique tee shirts and clothing to gush over. We were there for over two hours!!!  And we didn't want to leave – that's how happy this store is! DWNY even has cool fashion for men (we didn't really look, but it's great to know when you're out shopping with a guy… there are plenty of ties to keep him busy!)
Here are some of our tres affordable (most averaging under a hundred bucks!) purchases that we made on this recent visit – crystal drop earrings that look like Ippolita earrings with more sparkle;
a pair of studs called the Sara studs after — on Gossip Girl and double – drop earrings also seen on Sara; two pairs of handcrafted and designed earrings made from vintage! Chanel buttons, that are, by far, the coolest addition to our jewelry collection;
a stunning statement necklace made of stones and crystal that is reminiscent of David Yurman's confetti collection, but with a much cooler (lucky!) vibe to it; 
a vintage tee shirt from these really creative guys from Brooklyn; and an iridescent leather Lodis clutch that is not only great looking, but functionally designed as well. And one of the best things about DWNY, Diana Warner sincerely loves her store and her creations and lets customers try on anything they want without getting annoyed! (hence our two hours in her compact store!) We Magpies would have moved in if we could…but since that really wasn't feasible, we plan on visiting our new favorite boutique all the time! New items come in daily, so Magpies, go check it out and let us know what you get!
*****************************************************************************
And now, to get you in the mood, Diana Warner has graciously offered to donate a pair of her faboosh Gossip Girl earrings to moi to raffle off to vous! To enter the DWNY raffle, just send us an note and we will add your name to the list where we will randomly select a winner at the end of the week! Only one entry per Magpie please…we're sure if you are selected you will become a DWNY fan as well!  We know, we know – you love us to the moon and back! (another of Dianna's fab creations!)
Oh, and by the way, an interesting fact about Diana- she is the proud owner of the original Broadway dog Toto, from the Wizard of Oz! How funny is that???

And that's just another reason to visit the happiest little store in New York!                                                   Hey!!  Where you going?? You have to send us your email address (through our contact page) to be part of the free glamorous earrings giveaway!!…and keep your fingers crossed!