Even in this Market – Co-op is Worth Your Investment
September 8, 2018
/
/
Comments Off

on Even in this Market – Co-op is Worth Your Investment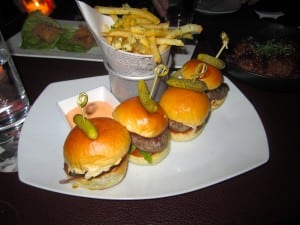 Even in this Market – Co-op is Worth Your Investment
[Check out CO-OP Preview Party, shot by Alan Phillips]
We Magpies take our birthday celebrations quite seriously. And since we dine out quite a lot, we are always in search of a new special place to kick off our birthday festivities. We were very fortunate that a fellow Magpie had drinks at Co-op in the Hotel on Rivington in the Lower East Side – and suggested we have our birthday dinner there. Well, it turns out, Co-op happens to be a really fun and tasty place to celebrate. When we arrived for our dinner reservation, our table was not yet ready, so of course we went straight to the bar – a big and inviting place to have drinks.  There are several specialty drinks on the menu that sounded faboosh, so we tried a truffle martini – a dirty martini garnished with olives stuffed with truffled feta cheese (mmm…delish) and a pink bazooka martini served with a pomegranate ice cube, which was another winner.
Sam, our now favorite bartender, was really nice and friendly, and immediately filled up a tin container with truffle popcorn to munch on as we sipped (well more like chugged…they were that good) our drinks!
Before we could say, "I'll have a second," our table was ready and we were led into the main dining room which was really cool. With its high-glass ceiling and huge portraits of people surrounding the walls of the entire room – it makes you feel like you're dining in an exclusive photographer's loft.
They almost stuck us at a communal table (sorry to those of you Magpies who like communal tables…), but luckily we came armed with a very persuasive Magpie who would not tolerate the group table on her birthday  – we got a lovely banquette to dine at instead. And now onto the food!  Everything can be shared at Co-op, which makes it so much fun when you go out with a group – plus, you don't have to be stuck with an entree you don't like!  But at Co-op, that would not have been the case anyway – everything we ordered, we loved! We started with the lobster shots – tiny cups filled with a creamy lobster broth and bits of lobster – so cute and soo good.
They also accommodate for the number of people in your party who want a taste – if the small plate is served with three pieces, they will add a fourth or fifth in and charge you per serving instead of needing to get two orders. They are known for their sushi – so we tried a spicy tuna on crispy rice, which was very good.  We weren't crazy about the spicy part (that sneaky jalepeno pepper…even after we removed it, it's taste lingered).
We then ordered the peking duck steamed buns with hoisin sauce. We loved the duck filling – the buns themselves, not so much.  They were just a little too sticky and chewy.  But, with all the pork buns we've tried across NYC, it was a delicious twist to try them done with duck!
The sliders came next – a perfect and juicy patty on top of a perfect and juicy tomato, topped with a pickle and held together with a toothpick!  Plus, more truffle – the fries this time.  DE-LISH!.
We finished with the butter lettuce wraps, filled with melt-in-your-mouth miso black cod and topped with shredded filo – mmm…the textures! Smooth and crunchy at the same time – loved 'em.
And lastly, our absolute favorite, AJ's chicken meatballs – with cabbage slaw. So tender – with great flavor!
After all that, you might think we would've skipped dessert. Well – you would've thought wrong! We chose two delectable sounding desserts and they did not disappoint. The molten chocolate brownie with a petite(to keep our girlish figures) scoop of caramel ice cream was a chocolate delight…
…and the sticky toffee cupcake with a bourbon-buttercream icing – and sprinkled with chocolate chips –   was a gourmet cupcake eater's dream!
The two desserts were perfectly sized for a taste and a perfect ending to a really fun meal! Will we go back soon? Definitely! There are many more dishes to try and desserts to splurge on. Do we think Co-op is worth your investment calorie-wise and dollar-wise? Well, if you're like us Magpies, you're guaranteed many happy returns!