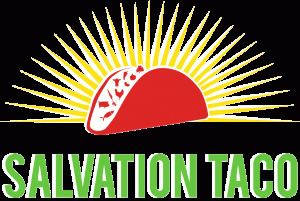 Salvation Taco: the Salvation of Murray Hill
Murray Hill is best known for its post-college crowd – but when it comes to decent restaurants, it's seriously lacking.  It's finally seen salvation with the new restaurant by chef April Bloomfield, top chef of Spotted Pig and The Breslin fame.  Bloomfield's newest hotspot Salvation Taco has come in to save the day, and Murray Hill's reputation.  Located in the Pod 39 hotel on East 39th Street between Third and Lexington Avenues, Salvation Taco is a casual place decked out with colorful lights and a full tequila bar.

We Magpies immediately ordered two of the specialty drinks — the American Firing Squad (Applejack, rye whiskey, mulled wine grenadine, chamomile, amargo-vallet, fresh orange & lemon juices) and the 5 Island Horchata (5 Island Rum, coconut horchata, cold-brewed coffee, fernet-vallet, cinnamon and vanilla) and were intrigued by the unique mix of ingredients. These drinks were sooo hot – ay caramba! – that we were transported to a Cabo getaway…well, just for a few minutes…until we ordered some more!

Next came the food. Though the menu is quite small, it has a wide range of choices with interesting fillings – which means there's something for everyone. And as we Magpies usually do, we ended up on trying several of the signature tacos. Our top three were the korean barbecue taco (our fave, and the most recent addition to the menu); the moroccan lamb on naan (loved the naan!), and the fried striped bass with mayan mayo (who knew the Mayans had a mayo?!).

Of course, there would be no salvation without dessert – so we got the churros!  Light, crispy, cinnamon-y and, when dipped in chocolate – muy delicioso!
All in all – Salvation Taco pretty much just became the salvation of Murray Hill in our eyes. Finally – a cool place in Murray Hill to grab a light bite and drinks with a grown-up edge! But be warned – the place does not take reservations…so check it out before Murray Hill's entire post-college crowd discovers it. (145 East 39th Street, between Third and Lexington Avenues; 212.865.5800; www.salvationtaco.com)